My Practical Skills™ is an online store where fashion designers can find fashion design eBook tutorials, video tips & training, and useful fashion design tools. We provide real skills for real life: practical, must-have knowledge and tools for apparel designers at any level, from fashion students and entry-level designers to seasoned fashion design professionals!
Fashion Design Tools
Vector Swatches and Embellishments
OVER 500 VECTOR TEXTILE PATTERNS, APPAREL GRAPHICS & FASHION EMBELLISHMENTS! This fashion CAD design "tool kit" contains seamless fabric swatches, pre-sketched apparel graphics & embellishments, appliqués, distressing, textures, and more! Easily render sketches with seamless fabric design swatches, add apparel graphics & embellishments to fashion sketches, and apply distressing & textures in a few quick steps!
$49.95
Vector Garment Accessories
OVER 400 PRE-SKETCHED APPAREL HARDWARE & ACCESSORIES! Now fashion designers can create accurate, detailed apparel sketches and fashion CADs, and save hours of precious time! This pre-drawn collection of vector hardware includes: buttons, snaps, zippers, zipper pulls, grommets, clasps, hook & eyes, belts, buckles, bows, lacing, epaulettes, belt loops, and even suspenders, drawstrings, neckties, and scarves!
$24.95
Fashion Sketch Templates
MIX & MATCH 1,300+ SILHOUETTES & DETAILS: Adobe Illustrator flat fashion sketch templates developed specifically to reduce fashion technical drawing time for fashion designers! Full range of garments contains everything fashion designers need for quick flat drawing of just about any fashion design you can think of! With over 1,300 Illustrator fashion templates to choose from, the design possibilities are endless!
$49.95
Adobe Illustrator Brushes
NOW 655 BRUSHES – LESS THAN $0.04 PER BRUSH: When it comes to creating fashion flat sketches, there are usually two main criteria: sketching garment details accurately, and sketching quickly. Adobe Illustrator is used widely within the industry to create flats faster than sketching by hand. But garments can be detailed, from embroidery designs, gathers and ruffles to topstitching, graphics, trims, hardware and more. Despite the advantages of Illustrator, representing these details accurately means sketching each element individually. As a result, sketching garments with accurate details can still be very time consuming, and details are often skipped to save time.
$24.95
Sweater Brushes and Swatches
REVAMPED: Sweater design fashion sketches are some of the hardest to draw because of all the details in sweater designs. Usually fashion knits silhouettes are simple, but sketching stitch details and textures can be really time consuming. To save time, many fashion sweater designers create Adobe Illustrator brushes and swatches to show cable stitches, pointelle, lace, crochet… But the whole process of creating and drawing a perfect repeat of a sweater stitch can take hours, even if you're good with Illustrator!
$19.95
Fashion Apparel Tech Packs
Instead of developing garment spec sheets from scratch and manually calculating apparel size grading, use our Fashion Tech Pack Templates and Sample Specs for Women, Men, Plus Size, and Childrenswear to easily prepare your apparel designs for production!
$29.95
Printable RGB Color Swatches
Tired of constantly reprinting CAD designs to get the right colors, aren't you? Our printable color library helps ensure correct color output when printing computerized designs. The library allows designers to accurately select artwork colors, reducing the chances of printer output discrepancies.
$34.95
Fashion Design Tutorials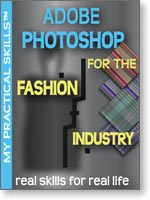 Adobe Photoshop for Fashion
Finally, you can learn Adobe Photoshop design software and compete with confidence in the fashion industry! With "Photoshop for the Fashion Industry" ebook training you'll become familiar with all the tools and features of Photoshop, and learn the techniques you need to create dynamic CAD fashion design projects for the real world.
$34.95
Adobe Illustrator for Fashion
Finally, a comprehensive and easy way to learn this confusing CAD design program. Covering beginner and intermediate levels of design, this ebook and exercise files cover every tool and feature used regularly in the fashion industry. With our Adobe Illustrator training and some practice, you can easily master the skills needed to create detailed fashion flats, CAD presentations and other industry standard design projects for the real world.
$34.95
Microsoft Excel for Fashion
Knowing how to use Microsoft® Excel is a must for any fashion industry career since it is used in all phases from design, to production, and even sales. If you don't know how to use Microsoft Excel, or if you only know how to enter data, it's time to update your skills. With our eBook tutorials, you'll learn how to use Excel for the Fashion Industry.
$34.95
Adobe Illustrator Advanced
Now there's an easy way to learn how to use Adobe Illustrator to create your own custom swatches and brushes! With the interactive tutorials in the "My Practical Skills: Adobe Illustrator Advanced Techniques" ebook, you'll learn to define your own swatches, and generate seamless print repeats for textile designs. You'll also learn to create customized Illustrator brushes to quickly represent topstitching, trims, binding, ruffles, gathers and other garment details that would otherwise be tedious to sketch individually. Applying these Illustrator techniques to your fashion design projects will save you time and increase your productivity.
$24.95
How to Spec a Garment
Knowing how to measure clothing is one of most important skills an apparel designer can have. Our "How to Spec a Garment" eBook, will prepare you with the skills you need to spec any type of garment. You'll become familiar with common points of measurement for apparel, giving you the confidence you need to stay ahead in the competitive fashion industry. (Includes Apparel Tech Pack Templates!)
$34.95